As the situation and official guidance in response to the Coronavirus develops, we want to make sure that our customers, and everyone in the fundraising community, have the support they need to continue securing essential donations whilst remaining safe.
The most important thing is people's health and well-being. We want to ensure that you are prepared and informed should the virus spread further so that you can keep fundraising, mitigating donation losses and keeping your supporters, staff, and volunteers safe.

How Will Coronavirus Affect Fundraising?
We appreciate that it is a difficult time for many of our customers, who are having to think through contingency plans, keep up with the latest guidance, and also work with the public and volunteers. You might be asked to revise plans, work with finance on cash flow, and look to see how you can best mitigate any future problems, all whilst continuing to serve your vulnerable beneficiaries.
As much as possible, try to avoid rushed or hasty decisions. Make sure you are following the Fundraising Regulator's Code of Fundraising Practice so that any decisions are in line with the regulatory standards.
Fundraising Events & Face-To-Face Fundraising
Lots of charities will have fundraising events planned for the weeks and months ahead and difficult decisions will need to be made as to whether to go ahead or cancel/postpone.
Making sure you are up to date with the latest official advice on public gatherings will be vital in making these decisions, but we are aware that many charities rely heavily on face-to-face fundraising and may feel they cannot cancel or postpone their future fundraising arrangements.
We want to reassure our customers that we are supporting those whose work relies on face-to-face fundraising and we will strive to continue to deliver our services to the highest standard during these exceptional and difficult times.
Our contactless donation solutions offer the real benefit of being less risky than handling cash donations and can take donations unmanned, minimising the chance of spreading the Coronavirus.
We also want to reassure customers that are considering cancelling fundraising events that we provide a number of FREE digital fundraising alternatives that allow you to continue taking donations for the foreseeable future without the need for face-to-face interaction.
Free Website Donation Buttons
Website donation buttons allow donors to give quickly and securely online at any time without having to leave home. We have a selection of ready made donation buttons to choose from that you can implement onto your charity website quickly. Donors simply click the button and are taken to a secure payment page to enter their details and the amount of their donation. Our tokenization technology also allows you to match online donations to future contactless card donations.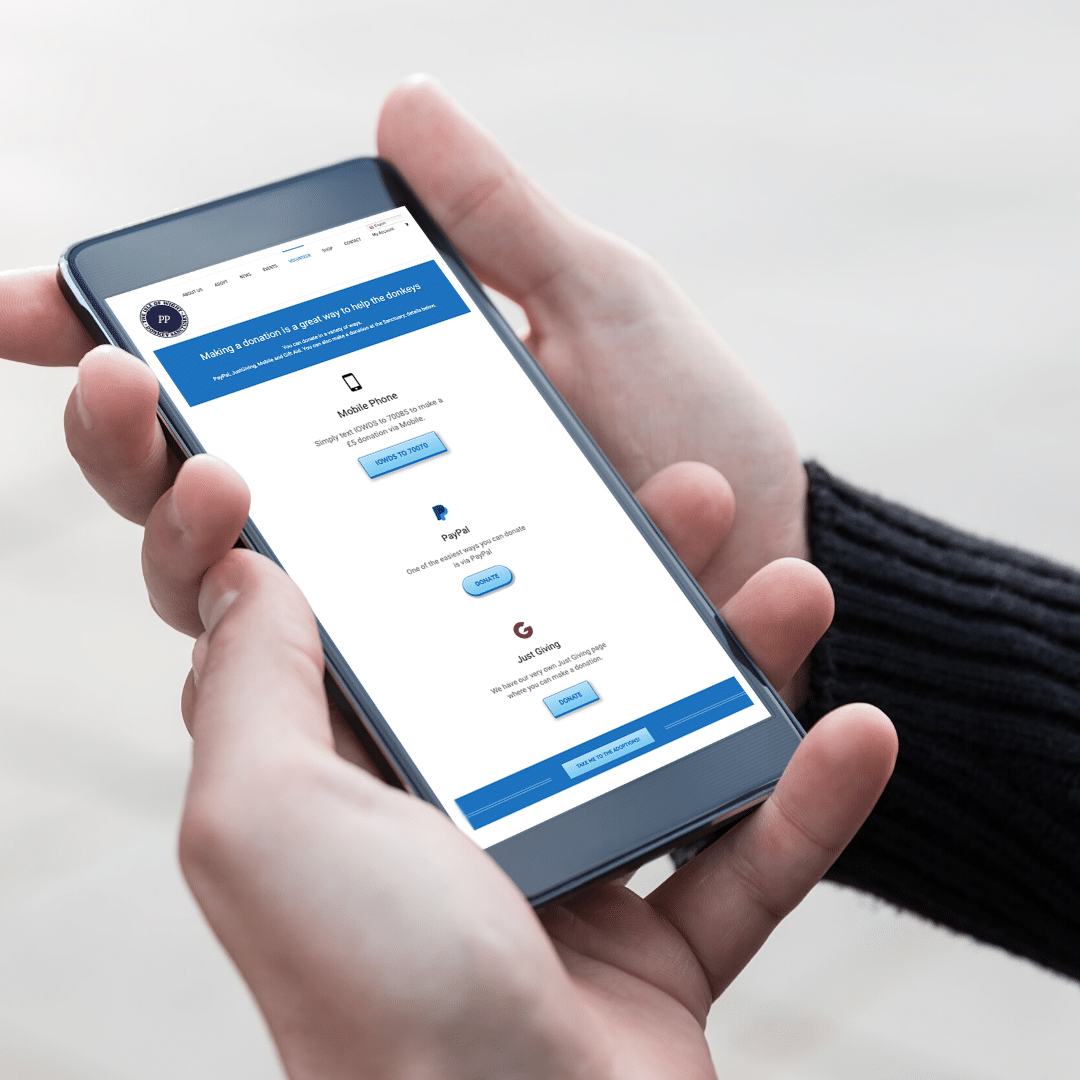 Free SMS Donation Links
If you have the mobile contacts of your donors, SMS links can be sent to them to request donations via mobile or tablet. The SMS links will then take the donor to a payment page when clicked, allowing them to donate at any time, anywhere. This is an easy and quick way to contact your donors en mass. Our SMS donation link facility allows you to manually enter or upload your mobile contacts in bulk, type your personalised message and enter a link to your donation page before sending.
Free QR Codes
We offer our charity customers free QR codes to expand their fundraising reach. QR codes can be placed in a variety of locations for your donors whilst upholding social distancing. By scanning a QR code a donor can be directed to a dedicated donation page and make donations on their mobile or tablet. Charities can also use QR codes to direct donors to a specific webpage for additional information they wish to share about their activities during the Coronavirus pandemic.
Free Virtual Terminal
The PayaCharity Virtual Terminal makes it possible to accept credit and debit card donations to your charity without a traditional credit card reader. Charities and fundraisers can take donations over the telephone and manually input all the card information and the amount and submit for authorisation. No additional software is needed, you only need to be able to log into your PayaCharity Portal via your computer, tablet or smartphone.
How Can I Get These Free Features?
If you have a PayaCharity account that doesn't already have these features you simply need to apply for the digital options package we offer. There is no setup fee and no additional cost to upgrade to add these facilities and we can have your new account up and running quickly.
If you are a new customer looking to utilise digital fundraising during these challenging times, you can apply for a new PayaCharity account here. Applications will take approximately 24-48 hours to get approval once the application is completed.
To find out more about how PayaCharity can help you continue fundraising during the Coronavirus pandemic, or for more information about any of our services, contact our team on 0333 123 1243.
All major payment methods supported
We accept Google Pay
We accept Apple Pay
We accept Visa
We accept Mastercard
We accept Amex